Elderberries are packed with antioxidants and have powerful antiviral and anti-inflammatory properties. For years, elderberries have been used as a home-remedy for fighting the flu and cold. The base of this cold and flu fighting syrup is elderberry, but there are a few other immune-boosting ingredients included: cinnamon, clove, ginger root, and local raw honey. Yum!  
At home, elderberry syrup is the go-to when feeling out of the ordinary. I have a sensitive system, so big store drugs that "fight the flu" hit me hard. Luckily, elderberry syrup is a natural, gentle, but wildly effective alternative! It can be taken as a preventative or as an aid if already sick.
Courtesy of a friend...
YOU'LL NEED: 
stovetop pot, strainer, bowl, mason jar
4 cups of filtered water
1 cup of organic dried black elderberries
2 cinnamon sticks
2 teaspoons of organic whole cloves
A two inch piece of fresh organic ginger root, peeled
2 cups of locally sourced raw honey
TO MAKE:
-   Pour your filtered water into a pot and toss all ingredients in, except for the honey.
-   Bring pot to a boil, then reduce to a simmer for 45-60 minutes, or until the liquid has been reduced by half.  Stir occasionally :) 
-   Move your pot from the heat and grab your strainer + bowl, and pour the honey into the empty mason jar 
-   Strain the pot contents into the bowl, then mash the contents to squeeze every last bit of juice out of the berries!
-   Pour the hot juice into the honey-filled mason jar, spin the lid on, and give it a good shake. 
-   Mark the date on the jar lid and store your fresh elderberry syrup in the fridge.  It should keep for six months in the fridge. 
(If you make multiple batches/jars, you can store them in the freezer for extra shelf-life!) 
TO USE:
Take 1/2-1 tablespoons daily for preventative measures.
If you are sick, take a tablespoon every 2-3 hours to milk the healing benefits of your elderberry syrup.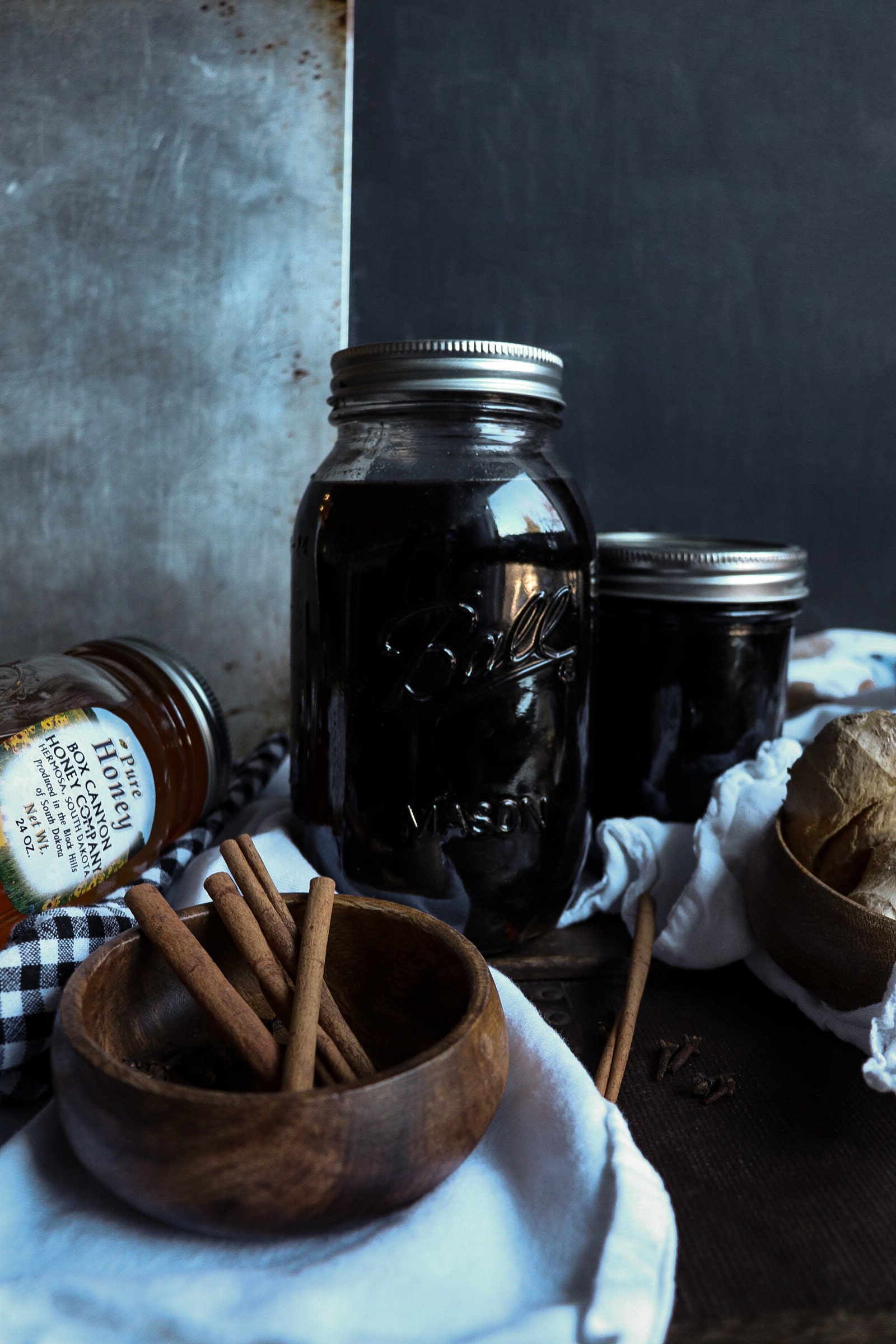 Elderberries are packed with antioxidants and are antiviral, anti-inflammatory, and are packed with vitamins. They have been found to cleanse the body, prevent or reduce common infections, and reduce swelling and pain by tempering the body's immune response, and even reduce stress. Cinnamon has anti-inflammatory, anti-bacterial and anti-oxidant properties. Ginger cleanses the body, is a powerful anti-inflammatory, and soothes the stomach.   Clove boosts the immune system, is an anti-inflammatory, and aids digestion.   Local raw honey soothes the throat and cough, which helps to avoid a fever, and has antibacterial and anti-fungal properties.